Purposes:
AC Testing of cables and electrical apparatus
is now easier than ever if using our VLF High Voltage Tester !
VLF testers are suitable for testing cables, transformers, switchgear,rotating machinery, and other electrical apparatus.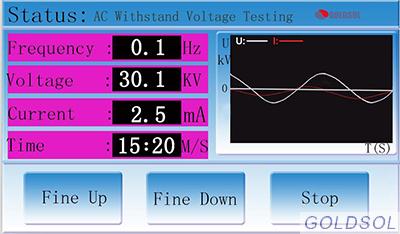 VLF Advantage:
AC/DC dual purposes

Touch colour wide LCD

Easiest to use Fully automatic microcontroller

Built-in printer

True sine wave output

Real-time display of actual output waveform

Ergonomic, menu guided, large touch colour display.

Storage of test results for later retrieval and print.

Over voltage and current protected

Variable frequency 0.1Hz, 0.05Hz, 0.02 Hz, 0.01Hz

Data of current, voltage and waveform directly sampled at HV side.

AC testing does not degrade good cable insulation

Harmful space charges are not injected into the cable insulation

No traveling waves are generated during testing

Rugged and reliable design less prone to failure from transients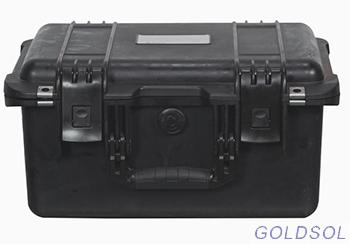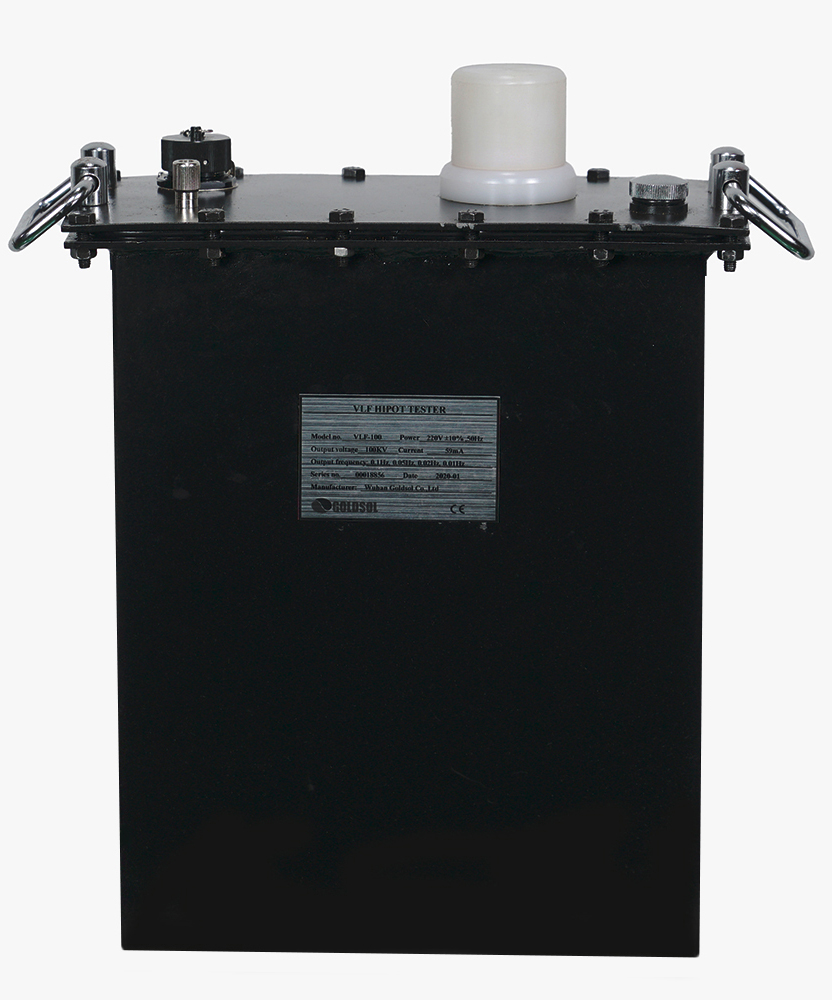 Technical parameters
1.Power: 220V ± 10% AC, 50/60 Hz, single phase; or 110V ± 10% AC, 50/60 Hz, single phase.
2. AC Output-Voltage (Peak):30KV, 40KV, 50KV, 60KV, 70KV, 80KV, 90KV, 100KV
3.Output frequency: 0.1Hz,0.05Hz,0.02Hz, 0.01 Hz (4 scales)
4. Stability of frequency: Fluctuation < 0.5%
5. Measurement accuracy: ±3%.
6. Positive and negative voltage peak error: ≤3%.
7. Voltage waveform distortion: ≤5%
8. Construction: In two units: Control unit and Booster.
9. Ambient conditions of use: temperature Indoor and outdoor : -10ºC ~ + 50ºC.
10. Humidity:≤85%
Model no

Output

Voltage/

Current

(Peak)

Load Capacity

Control Unit

Booster

Power

Capacitance/

Freuency

Net Dim.

(cm)

Net Wt

(kg)

Net Dim.

(cm)

Net Wt

(kg)

VLF-30

30KV/20mA

0.1 Hz, ≤1.0µF

0.05Hz, ≤2.0µF

0.02Hz, ≤5.0µF

0.01Hz, ≤10.0µF

40×24×31

6

34×16×30

25

1000W

VLF-40

40KV/20mA

0.1 Hz, ≤1.0µF

0.05Hz, ≤2.0µF

0.02Hz, ≤5.0µF

0.01Hz, ≤10.0µF

40×24×31

6

44×18×37

40

1200W

VLF-50

50KV/30mA

0.1 Hz, ≤1.0µF

0.05Hz, ≤2.0µF

0.02Hz, ≤5.0µF

0.01Hz, ≤10.0µF

40×24×31

6

44×19×37

45

1500W

VLF-60

60KV/59mA

0.1 Hz, ≤0.5µF

0.05Hz, ≤1.0µF

0.02Hz, ≤2.5µF

0.01Hz, ≤5.0µF

40×24×31

6




45×20×38




45

2000W

VLF-70

70KV/59mA

0.1 Hz, ≤0.5µF

0.05Hz, ≤1.0µF

0.02Hz, ≤2.5µF

0.01Hz, ≤5.0µF

40×24×31

6

45×20×38

34×16×30

45+25

2500W

VLF-80

80KV/59mA

0.1 Hz, ≤0.5µF

0.05Hz, ≤1.0µF

0.02Hz, ≤2.5µF

0.01Hz, ≤5.0µF

40×24×31

6

45×20×38

34×16×30

45+25

3000W

VLF-90

90KV/59mA

0.1 Hz, ≤0.5µF

0.05Hz, ≤1.0µF

0.02Hz, ≤2.5µF

0.01Hz, ≤5.0µF

40×24×31

6

46×22×38

45×20×38

45+45

3500W

VLF-100

100KV/59mA

0.1 Hz, ≤0.5µF

0.05Hz, ≤1.0µF

0.02Hz, ≤2.5µF

0.01Hz, ≤5.0µF

40×24×31

6

50×25×40

45×20×38

45+45

4000W
Accessories